License Plate Recognition in Smart City
High Reliable, High Performance, A Perfect Piece of Hardware for Traffic Monitoring
Innovative Smart City Solution
License Plate Recognition (LPR) is widely adapted for "Smart City" applications nowadays. It is based on advanced video technology, AI deep learning and high-speed data transfer in IoT system to identify license plates or other vehicle features for traffic monitoring purposes, such as surveillance and security systems, traffic light enforcement, speed control on high-way, tolling system, parking lot access control and so on.
QBiX-EXP embedded system with 4 x PoE LAN ports for IP cameras brings the visual solution to enhance the accuracy of image recognition and transfer real-time analytics for operators to immediately gather and associate with necessary data about every vehicle and then respond with appropriate actions.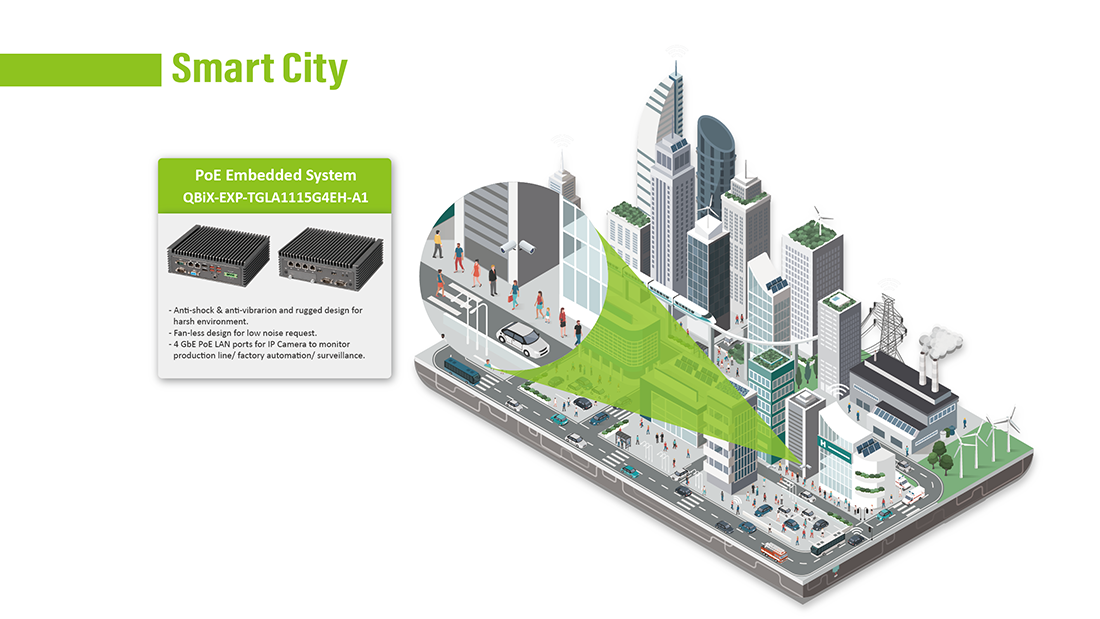 What License Plate Recognition Can Bring?
Security Control

It's suitable to provide accurate and authoritative data to law enforcement on traffic monitoring management and avoid dangerous situations.

Streamline Management

License Plate Recognition (LPR) streamlines your operations. People who are authorized can access parking data with a cloud-based system.

24/7 operation

The system can operate 24/7 without interruption providing complete surveillance and ensuring traffic safety.

Excellent Performance

With the latest Intel® 11th Gen core i processors, these solutions deliver intelligent computing capability for data transmitting and analysis.

Fan-less Design

Instead of traditional CPU fan, fan-less design protects the system from dusts and dirt, in order to extend product-life and for easy maintenance.

Longevity Support

The product design comply with industrial standard of anti-vibration and anti-shock, and the longevity support at least 5 years.
Related Product
QBiX-Exp-TGLB1135G7H-A1

industrial system with Intel® Core™ i5-1135G7 Processor / 2 x HDMI / 6 x LAN Ports